You all know I love COLOR, neons, knit things, handmade things, and all things boho. So you know this RocksMyStyle! Remember when I posted about Yarn bombing? This is yarn bombing on a whole different level!
Magda Sayeg is the artist behind these amazing yarn bombings! (and she's from Houston and owns Cafe Brasil and Domy Books in the Montrose area. Shout out to the Brasil Caesar with Heart of Palm  ;))
She recently did a once-a year limited edition collection of sunglasses for Sunglass Hut! I'm loving them!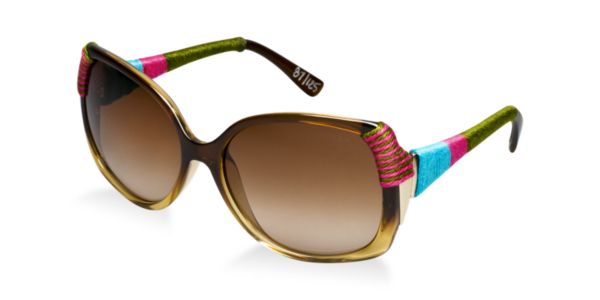 There's so many different color combinations to choose from and only $129.95!
Check them all out at Sunglass Hut!
These are my favorite pics of Magda's work and brief excerpt from Oprah.com so you get to know her  and her inspiration!
The Yarnbomber: Magda Sayeg
Who she is: A prodigious knitter who turns things like park benches and parking meters into vibrant, yarn-covered sculptures.
Her Aha! Moment : When Sayeg opened her Austin clothing boutique, Raye, it faced an imposing steel-and-glass building. Hoping for a more cheery view, she enlisted a knitter friend to help her wrap a nearby stop sign in yarn. "Suddenly," she says, "magic happened."
Breakthrough idea: Enlivening mass-produced, inanimate objects through the power of lovely, tactile handiwork—transforming a steel bike rack into a neon pink and yellow serpent or an entire Toyota Prius into a fuzzy, psychedelic clown car. Sayeg's work (specifically yarnbombed trees) has even appeared at the Blanton Museum of Art in Austin.
Her biggest hurdle: Convincing her nearest and dearest that she wasn't losing her mind. "Yarnbombing was so conceptual and weird," she says. "But even when it was criticized or my friends and family found it baffling, I wasn't ready to put it on the shelf. I'm glad I kept my confidence."
What's next: Yarnbombing a huge stairwell in Sydney and erecting a massive needlepoint banner beneath Brooklyn's Williamsburg Bridge. She also hopes
Breakthrough advice: "There's this belief that if you don't have formal training, you're going to fail. But you can figure out how to do anything your own way." —Katie Arnold-Ratliff
Peace, Love & Aloha!
Filed under: art, beauty, design, diy, Fashion, fashion bloggers, fashion news, Fashion Photography, international
|
1

Comment
Tags:
art
,
artist series
,
cafe brasil
,
colors
,
fashion
,
houston
,
knitta
,
Lorena Azizeh
,
magda sayeg
,
sunglass hut
,
yarn bombing
---
---
Blogroll

Archives

Top Rated

Pink Positive Live Green